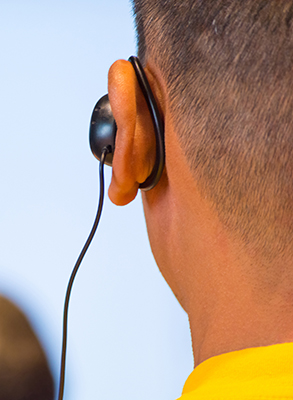 Simultaneous, consecutive and whispered interpretation performed by graduates and experienced conference Greek  interpreters in the following languages:
Greek, English, German, French, Spanish, Italian, Portuguese, Russian, Ukrainian, Georgian, Turkish, Chinese, Japanese, Arabic, Dutch, Swedish, Norwegian, Finnish, Danish, Polish, Romanian, Czech, Slovakian, Serbian, Croatian, Macedonian, Bulgarian
Interpreting at exhibitions or congresses in Greece and abroad
Interpretation in Courts, Ministries, Government Bodies
International medical conferences, training seminars, product presentations, press conferences with the provision of the necessary interpretation equipment
Interpreting for overseas business meetings
Trade negotiations involving Importers, Exporters, Industry and Public Bodies
Notary Interpretations for signing contracts
Specialization in:
Medical – Pharmaceutical
Marketing – Management – Advertising
Training of staff
Nutrition – Food
Scientific conferences – Universities (History – Archaeology – Arts – Sciences)
Innovation – Technology – Renewable Energy Sources – migration
Conference equipment including cabin, microphone facilities, headphones, etc. can be provided.
Request a quote by filling out the form & we will contact you directly.